About Williams & Williams Designers, Inc.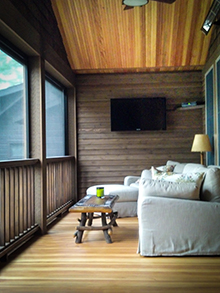 For 3 generations, Williams & Williams has developed a reputation in the community and beyond for quality home design, exceptional client service, and a deep sense of professional responsibility. We offer a high level of capability and dedication to producing quality projects. We thrive on creativity, mutual trust, and shared ideas to create lasting value for every client.
Whatever the scope of the project may be, we communicate extensively with the client to analyze their goals and requirements and provide innovative solutions to complex design problems.
Williams & Williams maintains the latest technology in order to allow clients to clearly visualize the end product during the planning and design phases and utilizes a highly intelligent building information modeling (BIM) CAD software. We stay current in design issues, methodologies, building codes, construction standards, and innovation through ongoing research, continuing education courses, trade periodicals, and professional organizations.
To this day, the goal at William & Williams is to help clients with all of their custom home design needs and help guide them through this process. Whether we are helping a couple with their first home, upsizing a client's home for their expanding family, or designing a couple's retirement home we always strive to provide each client with the outstanding work and service they deserve.