Williams & Williams Designers, Inc. Custom Home Design Process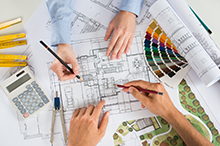 Designing a detailed and intricate work of art such as a custom designed home or renovation takes time and personal attention. Custom design services by Williams & Williams let you realize your dream home as a one-of-a-kind work of art. Through this process, your custom home is carefully designed and tailored to meet your needs and desires.
Every Williams & Williams project starts with the same unparalleled process.
STEP ONE – Initial Meeting & Project Evaluation:
The first step of every Williams & Williams project is to meet with you and discuss your wants, needs, and goals. Since building a new home or considering a renovation is an adventurous endeavor, most clients have been planning and collecting ideas of some sort long before they bring us on board. We use these very ideas as direction for the project. Renovation and expansion projects require us to visit your home and thoroughly evaluate and measure it in its entirety. Whether it's a new home or a renovation and expansion, we review the opportunities and constraints these ideas brings to the project. We often get into sketching different ideas and concepts to help work through the constraints and improve upon the opportunities.
STEP TWO – Refining the Design:
After our initial meeting, Williams & Williams continues working to further refine the design based on our meeting. Williams & Williams will incorporate concepts, ideas, photos, sketches, etc. into a preliminary or conceptual design showing floor plans and colored 3-dimensional renderings of your project.
STEP THREE – Presenting the Preliminary/Conceptual Design: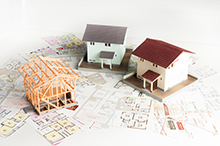 At our follow up meeting, we will present the preliminary plans using a large screen monitor in our office as well as paper copies. For our out of town clients, preliminary plans can be sent using regular mail or email with follow up phone conversations. At that time further alterations can be made. We encourage you to take the plans home and review them at your own pace. When you return the plans with your alterations marked up we will then make all changes and present the plans again or proceed to final plans.
STEP FOUR – Construction Documents:
Once the preliminary design for your home or renovation is approved we move onto the construction documents for the project. Our plans are prepared by utilizing the latest version of a highly intelligent building information modeling (BIM) CAD software to assure the highest level of technical accuracy. When combined with a great builder's standard means and methods, the construction documents create a road map to a successfully completed home.